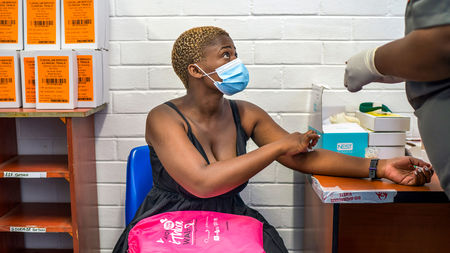 AstraZeneca COVID Vaccine: Clotting Disorder Mechanism Revealed?
Admin E-learning

0 comments
The European Medicines Agency (EMA) continues to reassure the public about the safety of the AstraZeneca COVID-19 vaccine, although several countries have imposed new restrictions on the product, owing to its link to a rare clotting disorder.Use of the vaccine has been suspended for individuals younger than 55 or 60 years in several European countries and in Canada after reports of a prothrombotic disorder and thrombocytopenia, mainly in younger individuals.


Now, more information on the prothrombotic disorder has become available. The vaccine appears to be linked to a condition that clinically resembles heparin-induced thrombocytopenia (HIT) and that occurs mainly in younger women.
Researchers have described clinical and laboratory details of nine patients from Germany and Austria who developed this condition 4 to 16 days after receiving the AstraZeneca vaccine in a preprint article published March 28 on Research Square.
They found that serum from four patients who were tested showed platelet-activating antibodies directed against platelet factor 4 (PF4), similar to what is seen in HIT.
They are proposing naming the condition "vaccine-induced prothrombotic immune thrombocytopenia (VIPIT)" to avoid confusion with HIT.


At a press conference March 31, the EMA said its ongoing review of the situation "has not identified any specific risk factors, such as age, gender or a previous medical history of clotting disorders, for these very rare events. A causal link with the vaccine is not proven but is possible, and further analysis is continuing."


A statement from the agency notes: "EMA is of the view that the benefits of the AstraZeneca vaccine in preventing COVID-19, with its associated risk of hospitalization and death, outweigh the risks of side effects."
But it adds: "Vaccinated people should be aware of the remote possibility of these very rare types of blood clots occurring. If they have symptoms suggestive of clotting problems as described in the product information, they should seek immediate medical attention and inform healthcare professionals of their recent vaccination."

VIPIT Study

In the Research Square preprint article, a group led by Andreas Greinacher, MD, professor of transfusion medicine at the Greifswald University Clinic, Greifswald, Germany, report on clinical and laboratory features of nine patients (eight of whom were women) in Germany and Austria who developed thrombosis and thrombocytopenia after they received the AstraZeneca vaccine.

The researchers explain that they investigated whether these patients could have a prothrombotic disorder caused by platelet-activating antibodies directed against PF4, which is known to be caused by heparin and sometimes environmental triggers.


The nine patients were aged 22 to 49 years and presented with thrombosis beginning 4 to 16 days post vaccination. Seven patients had cerebral venous thrombosis (CVT), one had pulmonary embolism, and one had splanchnic vein thrombosis and CVT. Four patients died. None had received heparin prior to symptom onset.
Serum from four patients was tested for anti-PF4/heparin antibodies, and all four tested strongly positive. All four also tested strongly positive on platelet activation assay for the presence of PF4 independently of heparin.


The authors note that it has been recognized that triggers other than heparin, including some infections, can rarely cause a disorder that strongly resembles HIT. These cases have been referred to as spontaneous HIT syndrome.
They say their current findings have several important clinical implications.
"Clinicians should be aware that onset of (venous or arterial) thrombosis particularly at unusual sites such as in the brain or abdomen and thrombocytopenia beginning approximately 5 to 14 days after vaccination can represent a rare adverse effect of preceding COVID-19 vaccination," they write. To date, this has only been reported with the AstraZeneca vaccine, they add.


They point out that enzyme immunoassays for HIT are widely available and can be used to investigate for potential postvaccination anti-PF4 antibody–associated thrombocytopenia/thrombosis. For such patients, referral should be made to a laboratory that performs platelet-activation assays.
Although this syndrome differs from typical HIT, the researchers note that at least one patient showed strong platelet activation in the presence of heparin. They thus recommend therapy with nonheparin anticoagulants, such as the direct oral anticoagulants.
They also write that high-dose intravenous immunoglobulin has been shown to be effective for treating severe HIT and could also be an important treatment adjunct for patients who develop life-threatening thrombotic events, such as cerebral vein sinus thrombosis (CVST), after being vaccinated.

EMA Data to Date

Updated data, reported at the EMA press briefing on March 31, indicate that 62 cases of CVST have been reported worldwide (44 from the European Union). These data may not yet include all the German cases.
Peter Arlett, MD, head of pharmacovigilance and epidemiology at the EMA, said there were more cases than expected in the 2-week window after vaccination among patients younger than 60 and that healthcare professionals should be alert to features of this condition, including headache and blurred vision.
He suggested that the higher rate of the condition among younger women may reflect the population that received this vaccine, because initially, the vaccine was not recommended for older people in many countries and was targeted toward younger healthcare workers, who were mainly women.


The German regulatory agency, the Paul Ehrlich Institute, reported this week that it has now registered 31 cases of CVST among nearly 2.7 million people who had received the vaccine in Germany. Of these patients, 19 also were found to have a deficiency of blood platelets or thrombocytopenia. Nine of the affected patients died. All but two of the cases occurred in women aged 20 to 63 years. The two men were 36 and 57 years old.
These data have prompted the German authorities to limit use of the AstraZeneca vaccine to those aged 60 years and older. Even before this decision, senior clinicians in Germany had been urging a change in the vaccination recommendations.
For example, Bernd Salzberger, MD, head of infectious diseases, University Hospital Regensburg, Regensburg, Germany, told the Science Media Center: "In women, a complicated course of COVID disease is less common from the start and is so rare in younger women that the chance of avoiding a fatal course through vaccination in women without comorbidities is of the same order of magnitude as the risk of this rare side effect."


Sandra Ciesek, MD, a virologist at Goethe University, Frankfurt, Germany, told the journal Science: "The argument I keep hearing is that the risk-benefit ratio is still positive. But we do not have just one vaccine, we have several. So, restricting the AstraZeneca vaccine to older people makes sense to me, and it does not waste any doses."

Concerns Put in Perspective

Commenting of the latest developments for Medscape Medical News, thrombosis expert Saskia Middeldorp, MD, head of internal medicine at Radboud University Medical Center, Nijmegen, the Netherlands, said it was vitally important that these concerns be put in perspective and that the vaccination program with the AstraZeneca product continue.

"There are some concerning reports about very rare blood clotting disorders and low platelet counts possibly associated with the AstraZeneca vaccine. Groups from Germany and Norway have identified a syndrome similar to HIT, which seems to explain the cause of this very rare side effect," Middeldorp noted.
"But with such a high pressure from the virus and many countries now going into a third wave of infection, anything that might slow down vaccination rates will cause much more harm than good," she warned.
Middeldorp believes the incidence of this HIT-type syndrome linked to the vaccine is about one or two per million. "These are estimates based on the number of reports of this side effect and denominators from the UK and EU populations," she explained. However, Germany has restricted the vaccine on the basis of German data, which appear to show higher rates of the condition. It is not known why the rates are higher in Germany.

"The European Medicines Agency is looking at this very closely. Their statement is quite clear. There is no foundation for changing policy on vaccination," Middeldorp stated.
She cautioned that these reports were reducing confidence in the AstraZeneca vaccine, particularly among young people, which she said was causing "a major setback" for the vaccination program.
Noting that everything must be viewed in the context of this severe pandemic, Middeldorp emphasized that the benefit of the vaccine outweighed any risk, even among young people.
"To those who may be hesitating to have the vaccine as they don't think they are at high risk of severe COVID infection, I would say there are a lot of young people in the ICU at present with COVID, and your chance of a severe COVID illness is far higher than the one or two in a million risk of a severe reaction to the vaccine," she stated